E-Signing for Signature Pads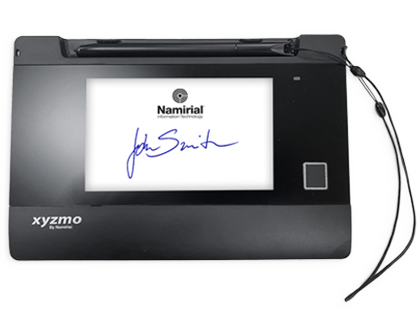 Capture Handwritten Signatures on Signature Pads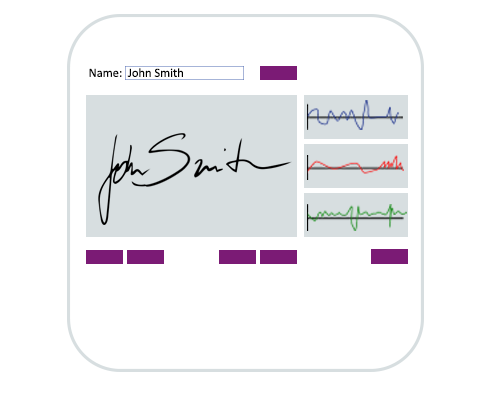 SIGNificant records the handwritten signature of a person using behavioral biometrical parameters, such as acceleration, speed, and rhythm. This makes the digitized signature forensically identifiable
Show the document and allow page browsing on color pads
We also provide signature verification that authenticates a signature against a pre-enrolled signature profile database in real time
Sign documents using qualified remote certifiates authenticated through biometric signature verification
See also: Advertising and E-Signing on Pen Displays
Speed Up Your Processes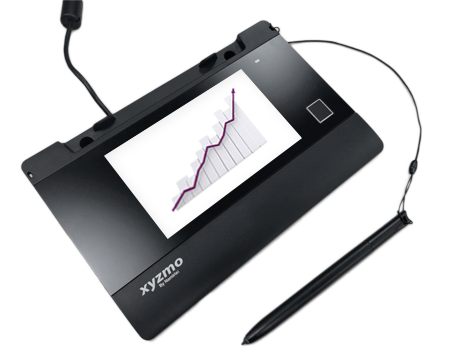 You can start your e-signature process with a document set produced from your core system. Once signed, the document ends up where it needs to be.
Signing fields and logic — the basics of the signing ceremony — are added to the document before it is signed by the customer.
Fill in your form fields and allow automated form data extraction of signed documents. Form data to be edited can also be prefilled from external applications before e-signing.
Add scans of driving license, passport or any other attachment
Bank-grade Security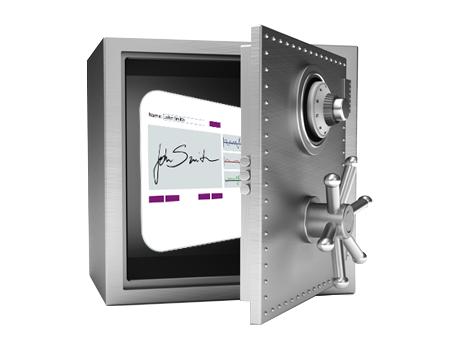 The biometrical signature data is encrypted asymmetrically using a public key directly while the signature is being record.
The signature is always securely bound to a unique document.
To prevent sniffing of the captured biometric data from the signature tablet, we offer the security mechanisms ranging from encrypting the communication between the signature pad and the computer to end-to-end encryption of the signature data on the pad itself.
We show the relevant part of the document as the background image on signature pads to provide a visual link between the signature and the document for the signer.
On many signature pads we enable signers to browse through the whole document on the signature pad if they want to.
Learn More
No Vendor Lock-In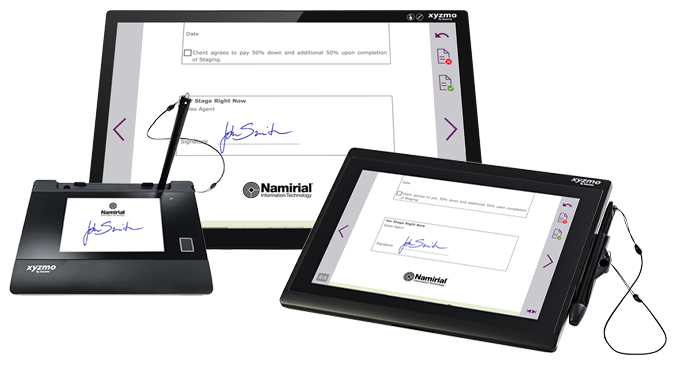 SIGNificant is device-independent it can be used with a broad range of signature capturing devices from various manufacturers.
Some processes require basic signature pads, while others require more advanced devices.
SIGNificant addresses this issue with a modular architecture that enables the introduction of new devices by developing small device drivers that do not change the core solution itself.
This solution ensures easy support and upgrades - even the complete exchange of devices with other vendors.
Biometric signatures can be exported according to the ISO/IEC 19794-7 standard for biometric signature exchange, providing full vendor independence of the signed documents.
Straightforward Integration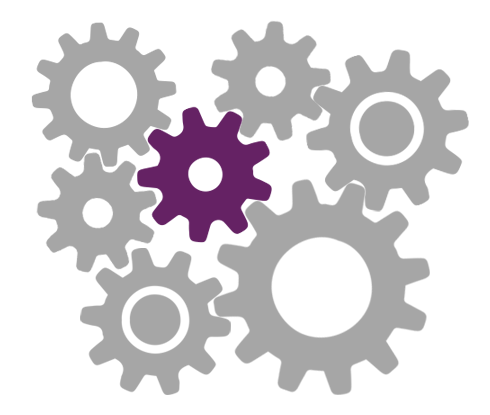 Load and sign documents either on the desktop through a local SDK or desktop application, or load and sign documents using a signing server that streams them to its clients
Use the native .NET or Java APIs of the local siging SDK, or the command-line and printing interface with the desktop application, which also provide an MS Office plugin
Use the device SDKs available in .NET or Java to integrate signature capture in your own document display software
Automatically detects the signature capturing devices from numerous vendors
Enable regular signpads without local buffer on thin clients using Citrix, RDP or VMWare Horizon and avoid packet loss resulting from the latency of production networks.
Available as an on-premise installation or provided as a cloud-based solution.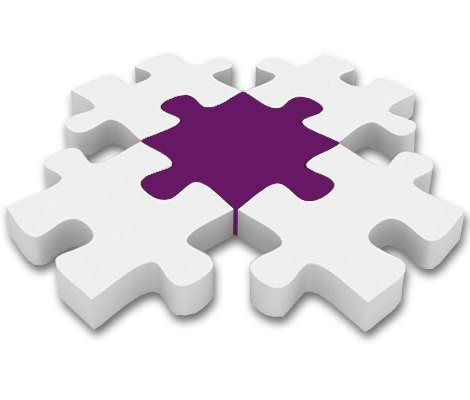 Products for Signature Pads
Server-based On-Premises or Cloud

SIGNificant Server with Web Signing Interface
SIGNificant Server with SignAnywhere Viewer
SIGNificant Server with Device SDK (.NET or Java)

Local Installation

xyzmo Client for Windows Classic
xyzmo Signing SDK for Windows (.NET or Java)
xyzmo Device SDK for Windows (.NET or Java) and Linux (Java)
Want to know more? Let's talk.
Contact us today and learn how SIGNificant can help you get documents signed securely on mobile devices.