eSignAnyWhere - Get Documents Signed Remotely.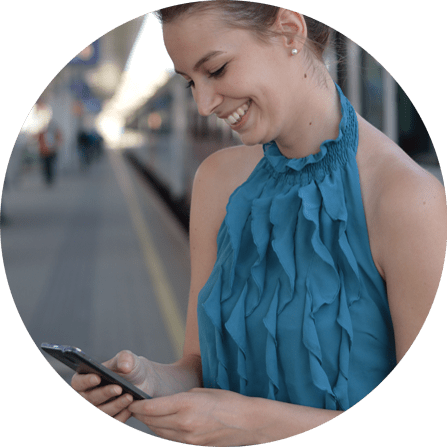 Typical Use Cases
Allow clients to sign documents directly on your Web page - including video consulting on the document
Send e-signing requests for one or more documents to internal and external recipients within a single transaction
Get documents signed remotely directly on the users device simply in the Web browser - anywhere, any time, even qualified!
FREE TRIAL
Route envelopes including one or more documents to multiple participants across various channels
Involve participants in a single transaction sequentially or in parallel
Bulk send an envelope to multiple signers at once
Automatically notify recipients and alert sender if envelopes are not completed on schedule
Ensure transaction security across all transaction participants regardless which channel they use (POS, mobile or online)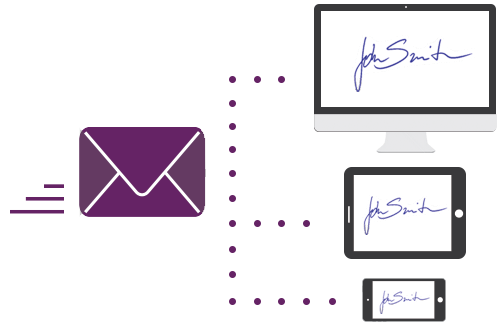 Define transactions through API, Plugins or Web Designer
Use envelopes to include multiple documents into one transaction
Define workflows and participant roles
Assign a document ceremony for each participant including the required authentication, signing options per signature field, actions on form fields, required and optional tasks
Create e-mail reminders for recipients and alerts for senders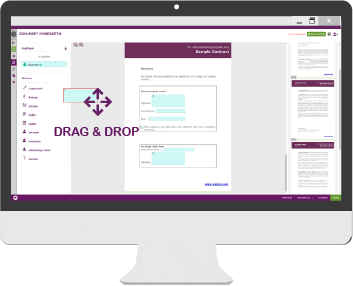 Review the status of your transactions in seconds
Get an overview through an easy accessible dashboard that groups envelopes by state (e.g. waiting, action required, completed, etc.)
Easily drill down to the detailed status of each transaction from the global dashboard
Access and download the detailed transaction log and the completely executed document
Organize your own documents (Inbox, Sent, Templates, Drafts)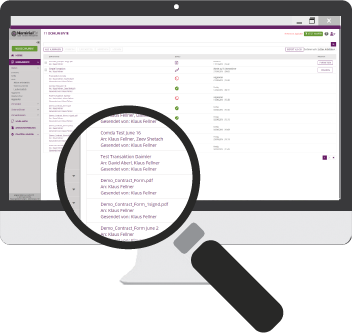 Onboard new signers - even online
Create a virtual identity that can be reused to reliably authenticate signers in real-time before they access the document
Identify and onboard a client either face-to-face or online using Web-based video identification
Agree on certain real-time authentication methods such as SMS-OTP or capture biometrical data inherent in handwritten signatures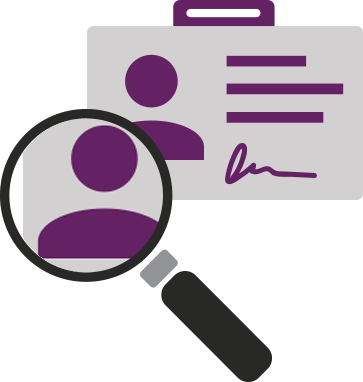 Validate signer identity
Email access (for transactions triggered by email)
Require recipients to enter an access code before they can view the documents
Send an SMS with a one-time password (OTP) to the signer's mobile phone.
Use national elecronic IDs (eIDs)
Utilize your own preexisting trusted authentication models
Use social networking IDs like Facebook login
If your business demands it, you can require signers to use a third-party digital certificate for signing.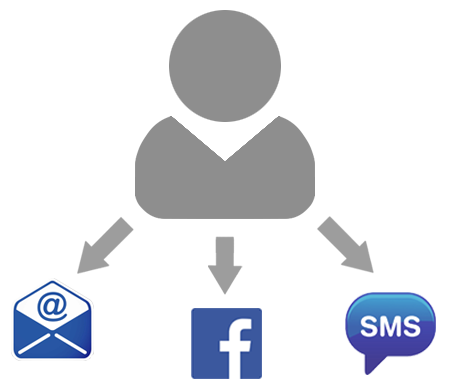 The signer simply clicks on a link to open a signing client tailored to the specific use case. The client then streams the document from the server and allows the user to read and optionally edit and sign the document. Users can choose between various signing methods and select the one that best fits their use case:
Signature images and pure personal certificate-based remote (qualified) signatures can be captured in an HTML5 compliant Web browser without requiring any local components.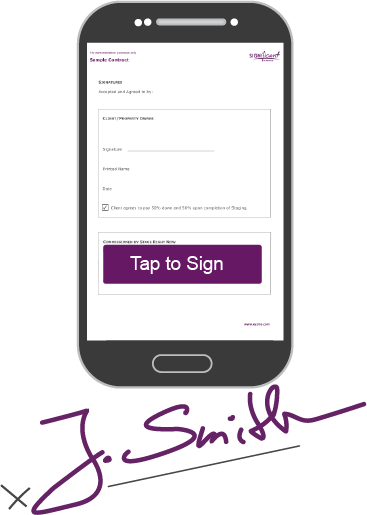 Delegation of signing requests
Recipients can also delegate signing requests, if allowed by the sender. This is especially useful when the sender does not know if the defined recipient is actually allowed to sign off the transaction.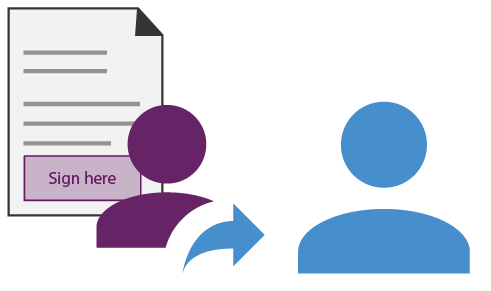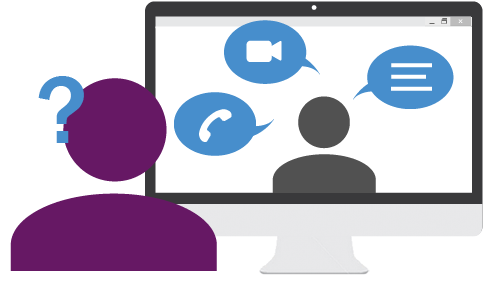 Provide personal sales consulting in real-time via text, voice and video chat to support your online business
See what part of the document the signer is currently looking at in real time
Conduct conference calls with several participants at the same time
Support customers in real-time with the (qualified) e-signature of a document
Trusted timestamp and geolocation
You can integrate nearly any time-stamp service you want to prove the exact signature date and increase legal compliance.
In addition to the timestamp, geolocation information can be captured and embedded along with the signature data if available.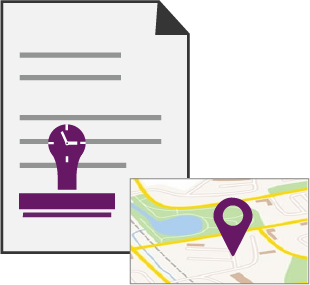 Get a detailed audit trail
The audit trail is a powerful tool that provides legal evidence who signed a document and when they signed it. Our audit trail solution keeps track of the following events:
Emails and notifications sent

Signers consent to use e-signatures
User authentication provided
Time stamps and geolocation
Pages viewed by each signer
Signature creation events
Transaction completion
Document downloads
Cancellations
And more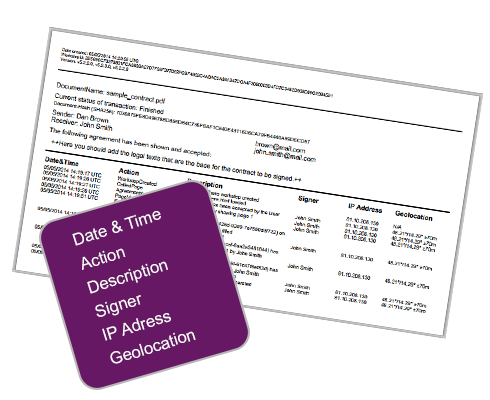 Tamper evidence
Every time a signature is captured, a digital signature is also applied, which turns the document into a sealed, tamper-evident PDF.
This tamper evidence begins when the document is initialized and maintained through document completion.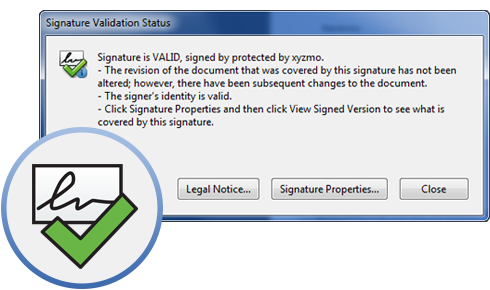 True digital signatures
Our signatures are true digital signatures based on documented technical standards that aren't proprietary to xyzmo.
SIGNificant-signed documents can be verified easily using free PDF reader software. There's no need to go to our website for verification.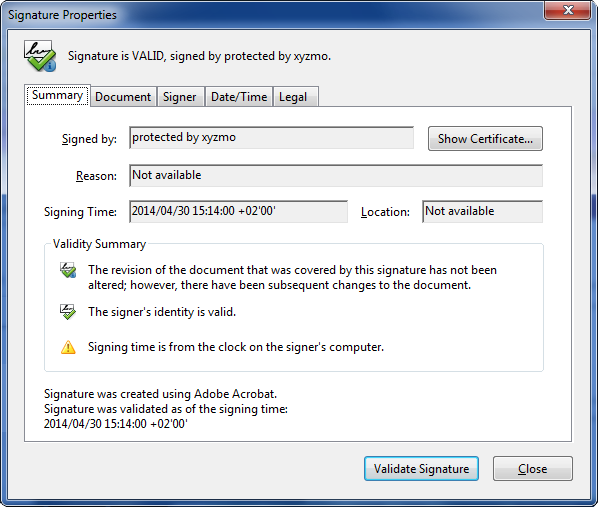 View document history
By using true digital signatures, we record a history of what each document looked like at the time it was signed.
The history is embedded into the document.
You can take a look at the embedded signature history within compliant PDF viewers, even if you're not connected to the internet.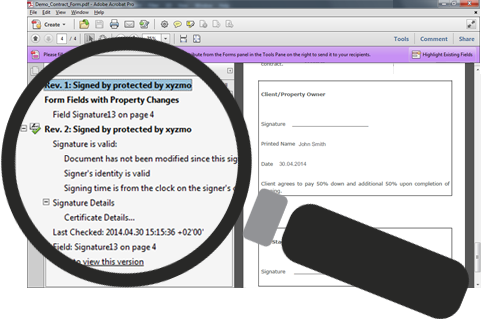 Want to know more? Let's talk.
Contact us today and learn how SIGNificant can help you get documents signed securely on mobile devices.