Supported Signature Capturing Devices
The Namirial e-signature solution is device-independent so it can be used with a broad range of signature pads from various manufacturers. Some companies require basic signature pads, while others require more advanced devices. And a signature pad-independent solution offers the necessary flexibility and leads to improved satisfaction rates, because customers can integrate the solution using the signature pad that fits their needs best. Namirial addresses this issue with a modular architecture that enables the introduction of new signature-capturing devices by developing small device drivers that do not change the core solution itself. This solution ensures easy support and upgrades - even the complete exchange of devices with other vendors. Some signature-capture devices for a variety of uses and applications, which are supported in our suite, are shown below.
Buy now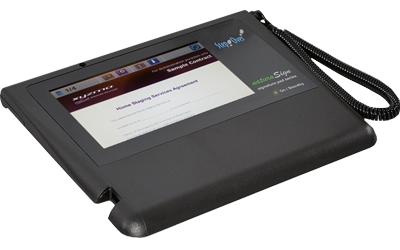 naturaSign Pad Comfort
Thanks to the brilliant TFTs, extremely flat design (under 1 cm thin), and rounded edges, the naturaSign Pad Comfort is a highly compact yet stable and comfortable device for capturing signatures.
Learn More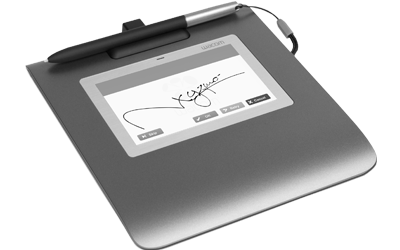 Wacom STU-430
The STU-430 is a full-featured, monochrome signature pad with a flat surface. The 4.5'' screen is large enough to capture longer signatures as well as to accommodate soft buttons in addition to the signature area. The transflective LCD is easily readable in varying light conditions.
Learn More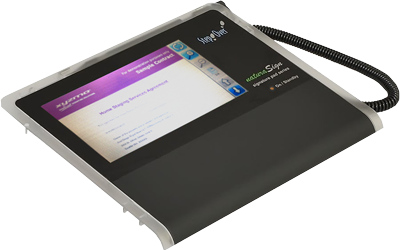 naturaSign Pad Flawless
Thanks to the extremely flat design (less than 8 mm thick), the naturaSign Pad Flawless doesn't just shine on the desk or counter - it even copes brilliantly with the demands of mobile use.
Learn More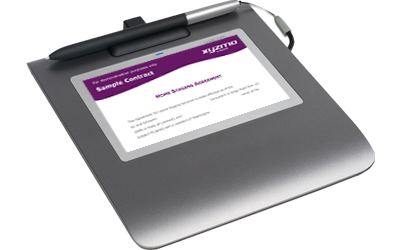 Wacom STU-530
The STU-530 features a 5" high-quality, high-resolution color LCD screen. The large, vibrant screen makes it ideal for businesses wanting to utilize the signature pad for advertising, promotions or branding while it is awaiting the next signature.
Learn More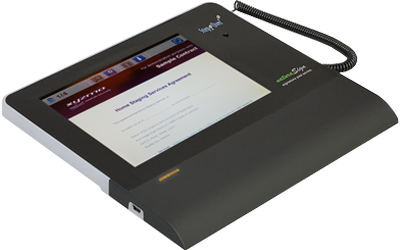 NaturaSign Pad Colour
Thanks to its extremely flat design (1.1 cm height), the naturaSign Pad Colour will not only be the shining point of any counter, but it can also be used in the most demanding portable services.
Learn More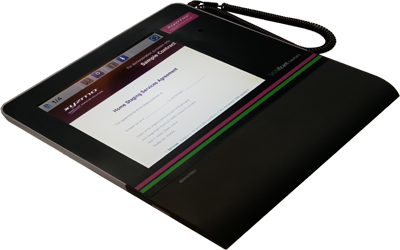 SIGNificant ColorPad 6
With SIGNificant ColorPad, the row data of the signature is encrypted in the pad itself. The private key needed to decrypt that sensitive information when passing the signature row data to a forensic expert for analysis — in case of a disputed signed document — is securely deposited in a safe deposit location of your choice.
Learn More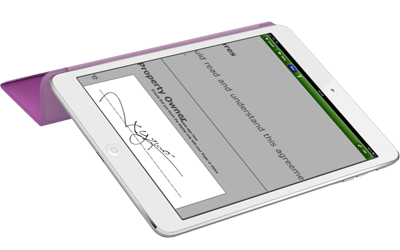 iPad
We support third party pressure-sensitive pens from Wacom, Pogo and Hex3.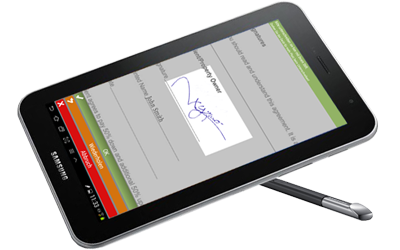 Android Devices
There are several Android-powered tablets and smartphones which can be purchased with an active stylus pen.
Bambooo Sylus Fineline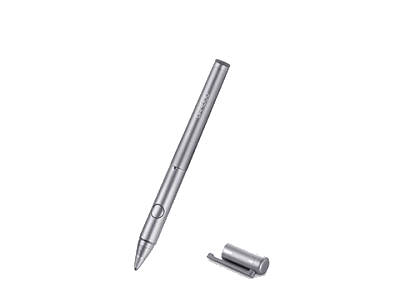 The advanced thin tip with pressure sensing gives you precise control when signing. Get the most natural writing experience on your iPad. Constructed of aluminum, with a grip made of painted ABS, it feels solid and looks classy and elegant.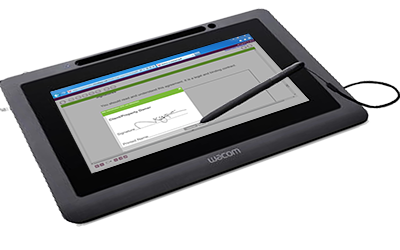 Wacom DTU-1031x
DTU-1031X is a light version of the DTU-1141 for customers who have lower requirements with regards to the display quality and usability of a 10 inch signature Display.
Learn More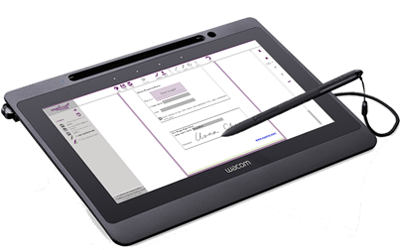 Wacom DTU-1141
The DTU-1141 is a unique product that combines a 10.6″ Full HD resolution LCD, state-of-the-art encryption, and power from just one USB cable, to provide an ideal document viewing and signing experience.
Learn More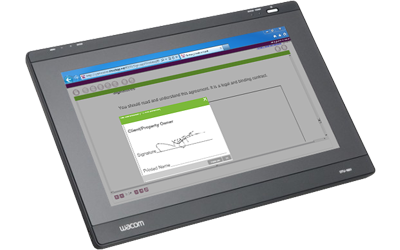 Wacom PL-1600
The PL-1600 interactive pen display enable users to add handwritten input directly to the monitor using a digital pen at the point of sale / service.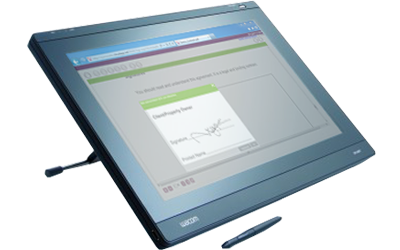 Wacom PL-2200
With its large 22″ (56 cm) display and native 16:9 full HD resolution, the PL-2200 is ideal for displaying and editing highly detailed material.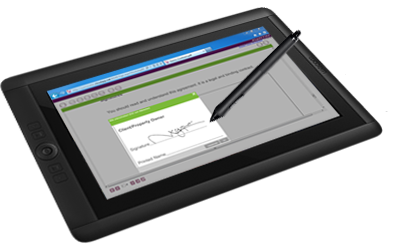 Cintiq 13HD
It may be small, but the interactive Cintiq 13HD pen display offers you many of the benefits of the larger Cintiq desktop versions. Finally you can experience the advantages of a high-performance Cintiq in a compact, slim design and create directly onto a powerful 13.3" Full HD display.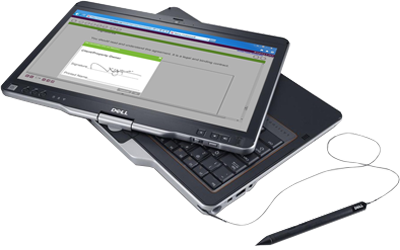 Convertible Tablet PCs
The closest thing to a typical laptop PC and the preferred choice of those who are heavy users of their keyboards.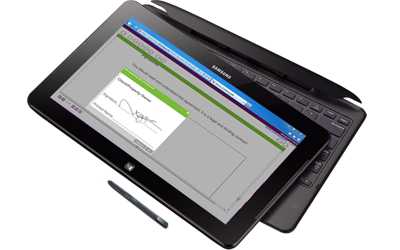 WIN8 Tablets
For any business that prefers Windows, specifically - not Android or iOS.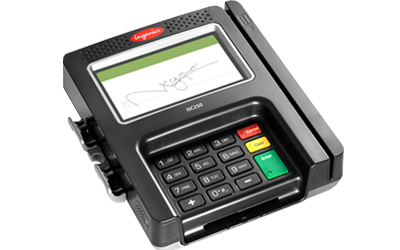 Ingenico iSC250
Based on a decade of Ingenico experience in signature capture and touch-screen technology, the iSC250 represents a unique combination of security and performance, leveraging the multimedia enabled Telium 2 platform. Much more than just a payment device, the iSC250 enables retailers to leverage solutions that bring real value to their businesses and customers – true digital signage exploiting WQVGA color and multimedia, web-based vertical application delivery via Incendo Online, and digital end-to-end transaction security solutions.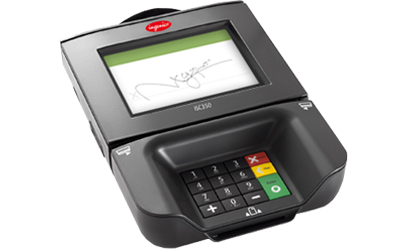 Ingenico iSC350
Modern retailers demand totally secure, robust, and versatile payment solutions for processing transactions at the checkout or at kiosks and self-service environments. The new iSC350 surpasses expectations with its industry leading multimedia features, unrivalled flexibility, and interactivity. Designed for demanding retail environments, iSC350 is the gateway to an array of local and web-based applications and solutions. iSC350 raises the bar, enabling retailers to create mix-and-match services and new cross-sell opportunities, while driving sales with memorable multimedia promotions.
* Requires custom integration due to firmware dependencies